in the Mountain Ash forests of the Victorian Central Highlands, Australia.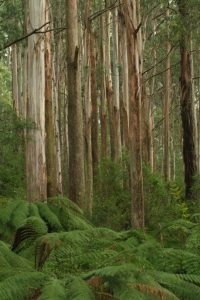 Internship host:
The Australian National University, Fenner School of Environment and Society
Context:
The project will involve field work in the tall wet forests of Victoria's Central Highlands, monitoring the presence and impact of Sambar Deer (scats, browsed plants, tracks).
Scientific objectives:
Objectives include: 1) Correlating deer presence with forest age, land tenure, high and low severity fire or logging impacts and other environmental topographic variables to determine where deer are most common and numerous; 2) What plant species are most impacted by browsing deer; 3) Impacts of deer browsing on plant regeneration after fire and logging; 4) Possible management action suggestions to land managers.
Implementation terms (techniques, work to be done, workflow etc.):
The project will link into an existing long term monitoring project with over 200 monitoring sites. Monitoring will involve visiting sites, conducting surveys, entering data and analysis. Work will primarily be conducted Monday-Friday with occasional weekend work.
Desired skills:
Desired skills include the ability to:
work unsupervised in a forest environment

observe and record data

speak, read and write in English

basic first aid skills (including treatment of snake bite)

navigation

drive a manual 4WD car (not essential)

operate a chainsaw (not essential)

basic 4WD rescue techniques (not essential)

general practical field skills.
It is hoped the intern will also assist with other aspects of the long term monitoring work including surveying possums and gliders at night.